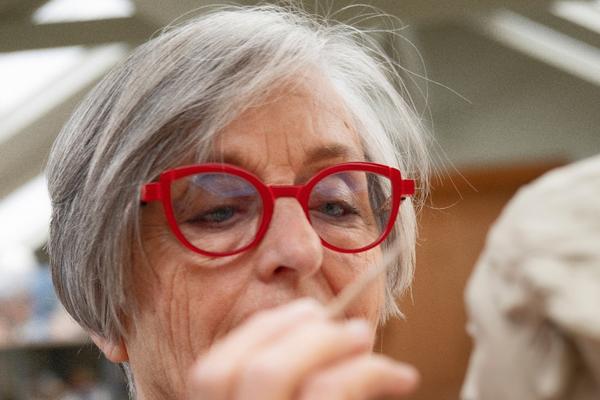 My ceramic sculpture practice focuses on the human figure. Through it I explore the human psyche as expressed in gesture, expression and movement. I draw on my own emotional history and from observing and interpreting the moods and behaviours of others.
Through constant practice since 2006, I have developed hand-building techniques by experimenting with many different clays and applications to the surfaces – texturing, oxides, slip, stains, glazes, multiple firings and using painterly oxides and glazes in combination. Anatomy, likeness and proportion were learned through sculpting (and drawing) from life.
I research my subjects, provide mentoring with established artists, run short courses and workshops – all of which have informed and influenced my work. I am inspired by other figurative sculptors' work – Anthony Gormley, Debra Fritts, Michelle Gregor, Terry Stringer, Paul Dibble, Frances Upritchard and Greer Twiss.
Exhibitions:
Solo shows
Earth wind and fire – Muse Gallery as Featured Artist: December 2019-January 2020.
Waiting (for life to begin): A major solo exhibition at The Hastings City Art Gallery, Holt Gallery showing from 19 May – 24 June 2018 Twelve standing figures 50+cm tall in red raku clay, seeming to interact with each other.
Art + Enterprise Napier (now Tennyson Gallery) 'The Fashionista Collection' as featured artist February 2016
Sculpture Awards Finalist and Group shows
Richard T Nelson Sculpture Award (2 x 500mm tall figures on totara stands)
Hawke's Bay Art Review 'Seeking Truth',selected finalist Napier – November 2021
'Pania, 70 years on' exhibition, held at Creative Arts Napier, September-October 2021. Ten artists were invited to attend when the original model for the Pania sculpture on Napier's Marine Parade, sat for us. Mei Whaitiri is now in her 80s
'Novel Coronavirus Lifestyle', ceramic installation selected for major public exhibition EAST 2020 at Hastings City Art Gallery
Finalist – Biennial UKU Hawke's Bay Ceramic Awards 2022, 2020 and 2018
Awards finalist: HB Art Review 2021, EAST 2020, UKU Clay HB Awards 2020, 2018, Portage 2016 (shortlisted), finalist NZ Small Sculpture Prize 2015, Waiclay Awards 2014
Wildflower Sculpture Exhibition November 2020 featured six large sculptural ceramic figures, in the 'Earthling' series – Selected works WSE 2012, 2014, 2016, 2018
Professional Development:
In March 2017 participated in intensive workshop 'The Standing Figure' at Tucson, Arizona learning technique and US ceramic practices. Museums of Art in San Fransisco
March 2019 Visited Japan to explore the ceramics culture
October 2020Ceramics technique workshop with Tracey Keith, ceramic artist, Visual Arts tutor for 17 years at Te Wananga o Aotearoa and who is nownow with Toimairangi, Hastings
Artists' symposium, EIT Ideas School, 2012
2004 EIT School of Art & Design, full time, 13-week Level 3 – Introduction to sculpture in clay.
Numerous ceramics handbuilding workshops and ceramics conferences over the years.
Tutoring
I have lead many workshops teaching the handbuilding techniques that I employ in my own ceramics practice. The workshops always include a focus on anatomy, posture, proportion and a close observation of the human form.