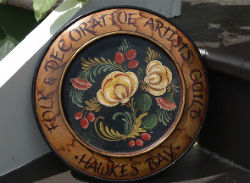 Folk Art – also known as "Bauernmalerei" (Literally 'Farmers' Painting) is the centuries old European art of painting on wooden furniture and other household objects. It is also known as Decorative Art and 'Tole' painting.
Welcome to Keirunga Folk Art Group. Keirunga has a rich history in folk art and we would love you to join us one day and learn about what we do, so please contact us and we will host you for one of our workshops.
There are numerous styles of Folk art. Every European country has its own distinctive style which can also change from region to region – town to town. Some are very primitive or 'naive' – usually painted by itinerant carpenters and cabinet makers others are highly sophisticated and painted by accomplished artists in the classical "Biedermeier" and empire styles.

Folk Art is the beginning of all decorative art techniques and although today's decorative artists do step over the line and teach some fine art techniques, it must be remembered that the true Folk Artist was self-taught and painted scenes from his everyday life and surroundings. Some of the favourites painted scenes on wardrobe panels were the four seasons, spring, summer, autumn, and winter.
Portraits of brides and grooms and their lives (almost like American memory quilts) and much religious symbolism appeared on chests, wardrobes, and bed heads, painted by the artists of the 17th & 18th centuries. Interestingly, the 17th & 18th century Folk Artists were exclusively men, yet the present worldwide renaissance of folk art is largely due to the interest of women.
In the United States, for example, at least 90% of today's nationally recognized artists are women. Over the past 25 years, a clearly discernible contemporary American Folk Art style has evolved. Although the interest is growing in Australia and New Zealand, there is not yet a visible "Australian" or "New Zealand" Folk Art style.
Here at the Hawke's Bay Folk Artists Guild at Keirunga tuition is given on club meeting days and at special workshops. Visitors are welcome on club meeting days.
  
For more information on the Hawke's Bay Folk & Decorative Artists' Guild, please email our Group Contact person, Lenie Dolieslager at lenie.dol@outlook.co.nz 
Equipment & Materials
Members provide their own materials, (we can help you select) but paint is supplied for use on Guild days.
A small library of books on Folk Art is available for the use of Guild members.
Membership costs
Please contact us for specific costs, which are made up of three parts:
Membership to Keirunga Gardens Arts & Crafts Society Inc. ($50 + GST per annum)
Group Facility Fee ($20 = GST per annum)
Additional group costs ($50 + GST per annum) for room hire
Some groups may also have external affiliation charges.
Meeting times
2nd and 4th Sunday of the month 10 am to 3 pm.
There are no meetings in December and January.
Group Contact Lenie Dolieslager at lenie.dol@outlook.co.nz